Payments
---
Secure Payments via PayPal - Australia`s favourite way to pay online !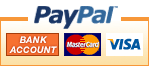 ---
PAYMENT BY CHEQUE / MONEY ORDER: Please make payable to: The Battery Doctor 15 Kahlua Crescent BOMADERRY NSW 2541
---
DIRECT DEPOSIT / EFT PAYMENT INSTRUCTIONS - ACCOUNT NAME: The Battery Doctor - BSB: 012787 - ACCOUNT NUMBER: 350620816
---
VISACARD / MASTERCARD / BANKCARD/ AMERICAN EXPRESS / JCB / 
We are PayPal verified merchants. - Our integrated payment gateway partner PayPal handles all Credit Card transactions during the ordering process and incorporates 128bit SSL technology for your security and peace of mind..
What Is PayPal? PayPal, the trusted leader in online payments, enables buyers and businesses to send and receive money online. PayPal has over 78 million member accounts in 56 countries and regions. It's accepted by merchants everywhere, both on and off eBay. Is it safe to use? PayPal helps protect your credit card information with industry-leading security and fraud prevention systems. When you use PayPal, your financial information is never shared with the merchant. Why use PayPal? Make purchases or send money with PayPal - it's free Shop and pay conveniently by saving your information with PayPal PayPal is accepted by millions of businesses worldwide 
---
Order and Pay by Phone - VISACARD / MASTERCARD / BANKCARD/ AMERICAN EXPRESS / JCB / 
CALL - Tel 02 4422 8170
Money Orders / Bank Cheques also accepted.
EFT / Direct Deposit / Electronic Funds Transfer Most of our customers pay us using this convenient method. This simply involves transferring money from your bank account to our ANZ trading account. This is most easily achieved via your internet banking provider, usually under the PAY ANYONE option. Transfer of money can also be achieved by going to your local branch in person with our account details. Charges may apply depending on your particular banking institution.
Credit Card Payments We accept payments online via our professional payment partner - PayPal www.paypal.com. Phone Order Card payment service via the Commonwealth Bank E Pos. Call us on 02 4422 8170.
Share