- - - - - Welcome to Battery Doctor Australia ! - - - - -
---
---
Established and trusted since 2001.
Thousands of brand new batteries and related products - direct to the public.
Shipping Australia Wide - fixed at $15.00 for most products
All enquiries please call during normal business hours 02 4422 8170 mon to fri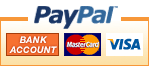 Secure Payments via PayPal - Australia`s favourite way to pay online !
---